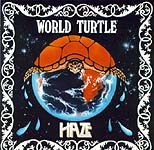 The Ember

See Her Face

Ship Of Fools

Edge Of Heaven

Don't Leave Me Here

Epitaph

Under My Skin

New Dark Ages

Safe Harbour

Autumn

Another Country

Straw House

Wooden House

Stone House
Chris McMahon - Keyboards, bass, programming
Paul McMahon - Vocals, guitar, programming

World Turtle
C'est La Vie / Ember
20th Anniversary Concert
Cellar Replayed
Stoat & Bottle
30th Anniversary Shows
Sampler 1
Sampler 2

Related Titles:
Von Daniken - New Worlds
World Turtle - Wilderness of Eden
Sampler 4





Haze formed in 1978 and have since been on of the hardest working British progressive rock bands with over 600 concerts in that time. With a legacy of 2 LPs, 3 singles and 8 cassette albums (and a compilation CD from these released in the USA), Haze have finally gone in to a proper studio for the first time. This album of mostly brand new tracks includes superb new renditions of their classics, with fluid guitar and keyboard work reminiscent of the best of early Genesis and Camel.